As if we needed more reasons to doubt that the Democrat Party made up allegations against Brett Kavanaugh here comes Julie Swetnick along with her lawyer Michael Avenatti, also know as "The Creepy Porn Lawyer."
Young Conservatives is reporting that Judge Brett M. Kavanaugh was accused on Wednesday by a third woman of engaging in sexual misconduct at parties while he was a student at Georgetown Preparatory School during the 1980s.
The allegation came from 55-year-old Julie Swetnick, who like 53-year-old Judge Kavanaugh grew up in the Washington suburbs.
In a statement posted on Twitter by her lawyer, Ms. Swetnick said she observed the future Supreme Court nominee at parties where women were verbally abused, inappropriately touched, made "disoriented" with alcohol or drugs and "gang raped."
She added that she witnessed 17-year-old Judge Kavanaugh participating in some of the misconduct. Which included lining up outside a bedroom where "numerous boys" were "waiting for their 'turn' with a girl inside the room."
60 people who grew up with Kavanaugh in that area are refuting the gang-rape claim. They all signed a letter calling the Swetnick claims "nonsense." Furthermore, they say they never met her or knew of her and these types of parties did not go on there.
Here is more via The Chicago Tribune:
"Swetnick's accusations against Kavanaugh came a day before the Senate Judiciary Committee will hear from Christine Blasey Ford, the California professor who said Kavanaugh assaulted her at a party when they were both teenagers. A second woman, Deborah Ramirez, told the New Yorker magazine that Kavanaugh exposed himself to her when they were both at Yale. Kavanaugh has unequivocally denied both charges, as he did in response to Swetnick on Wednesday.
"According to her affidavit, Swetnick met Kavanaugh and his friend and Georgetown Prep classmate Mark Judge in the early 1980s at house parties. She alleges that the teens who attended tried getting girls drunk "so they could then be 'gang-raped' in a side room or bedroom by a 'train' of numerous boys," she wrote. "I have a firm recollection of seeing boys lined up outside rooms at many of these parties waiting for their 'turn' with a girl inside the room. These boys included Mark Judge and Brett Kavanaugh."
"Swetnick said she herself had been gang-raped in one of these trains "where Mark Judge and Brett Kavanaugh were present" and soon after, told two others about her experience.
"During the incident, I was incapacitated without my consent and unable to fight off the boys raping me," she said, adding that she was "drugged with Quaaludes or something similar . . . "
"One of Swetnick's high school teachers remembers her as a student who got A's and B's.
"She was a good student," said David Kahn, 76, who taught Swetnick's modern world history class at Gaithersburg High. "She was relatively quiet, but was sharp and pleasant."
"Swetnick's father said he could shed little light on his daughter's high school years. "I was busy traveling around the country," he said. "We didn't have a good relationship."
"He said Swetnick wasn't closely supervised by her parents but never mentioned any type of sexual assault as a teen or showed any signs of trauma or depression.
"Maybe we were poor parents," he said. "She lived her life. We didn't discuss it."
"If her father wasn't paying close attention, some of the family's neighbors were.
"Donald Fontaine said he will never forget how the Swetnicks welcomed his own family to their Montgomery Village cul-de-sac in 1969 or 1970.
"We were the first black family to move here, and the guy got fired for selling us this house," recalled Fontaine, 89, during an interview in that same house. The Swetnicks, including a young Julie, brought over cake and fruit.
"That's why I remember how appreciative we were when the Swetnicks welcomed us," said Fontaine, who was a scientist at IBM.
"Told of the accusations, Fontaine said he would "certainly believe her."
"She was not a flirtatious girl," Fontaine said. "She was a pretty intelligent young lady."
"The neighborhood was stocked with scientists and federal government employees, recalled another neighbor, Bob Shewmaker, 78.
"It was all PhD's and master degrees around here," said Shewmaker, who said he had a security clearance from his time at the U.S. Atomic Energy Commission, where Swetnick's mother worked for a time.
"As the kids got older, the neighborhood became home to many parties, some in houses and others held in open fields.
"The party thing was going on," recalled Shewmaker, who said he instantly recognized Swetnick when her face appeared on television Wednesday. "There's no question about that."
"At least one of Kavanaugh's classmates scoffed at the notion that Swetnick would have been a regular at parties with Georgetown Prep students.
"Never heard of her," said the person, who declined to be named because members of the class have agreed not to speak on the record to reporters. "I don't remember anyone from Prep hanging out with public school girls, especially from Gaithersburg.'"
Ms. Swetnick said she was raped at one of the parties and believed she had been drugged but did not directly accuse Judge Kavanaugh of raping her.
But the worst part about this whole narrative is that none of Ms. Swetnick's claims could be corroborated. And her lawyer, Michael Avenatti, declined to make her available for any interviews. Why?
Now according to the timeline of events what is even odder about Swetnick's story is that when all this supposedly happened Kavanaugh was in high school. However, she should have been in college. So why did she attend high school parties were all these heinous acts were occurring but no one, not even her, said a word?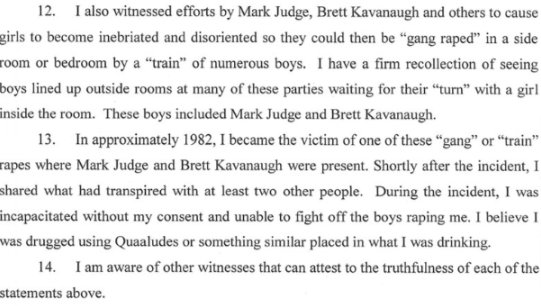 And what woman would trust herself to this particular lawyer? Maybe the kind who sees acts such as what she described at high school parties and doesn't say anything? Or the kind of woman who would lie about the whole thing? Only time will tell.